2021-01-18
The Hog 1 Pidal - Yet Another Raspberry Pi Guitar Effects Pedal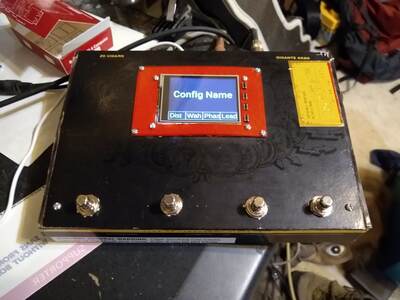 Around mid 2019, and after about 15 years of regular use, I'd started having some hardware problems with my Digitech RP-300A effects pedal (footswitches worked intermitently or not at all, expression pedal couldn't do the full range of values...). By early 2020 I decided it was time to move on.
Though I generally thought the Digitech was a great product, I had become a little bit frustrated by some of its limitations and I wanted to try something more. I had a pretty good idea what kinds of features I wanted:
Footswitch Configurability. I wanted to be able to punch in specific effects, as well as toggling between programs.

Portability. I'd been occassionally playing gigs in NYC in 2019, and I really wanted something that would fit in my gig bag.

Open Source Effects. I wanted to be able to use the same effects that I use while recording in a DAW, so that I could recreate my recorded sound live.

Expandability. I wanted to be able to hook up other midi controllers and USB interfaces to the device.
The MOD Dwarf ticked most of these boxes, but it didn't look like it would be generally available until at least December of 2020 (and in fact, at the time of this writing, still isn't). So I decided to take a swing at building my own Raspberry Pi based pedal.
What follows is the story of how I did it, presented in the form of a sort of "how to" that others can hopefully immitate. I've been very satisfied with the results, and the software is continuing to evolve. Be warned, if you want to do something similar it will take a bit of time: I'd estimate the whole project took me between 20 and 40 hours over the course of about a month. The materials probably cost under $250 in total, including shipping. There are a couple of special pieces of hardware that I 3D printed, if you don't have access to a 3D printer it shouldn't be too difficult to craft some substitutes. A Dremel rotary tool is extremely helpful for cutting openings in the box.
I've dubbed the unit the "Hog-1 Pidal." The "Hog" part comes from my internet handle ("mindhog") and the "Pidal" part is a bad pun on "Raspberry Pi" and "pedal" (I suppose any Pi based effects pedal could be referred to as a "pidal").
So if you're interested, read on! Here's a bad quality video of the unit in action. Read More